Kim Ku-lim: Experimental Art of Multilateral Transformation that Denies Self-referential Identity
페이지 정보
작성자
ART
댓글
0건
조회
404회
작성일

19-04-09 09:10
본문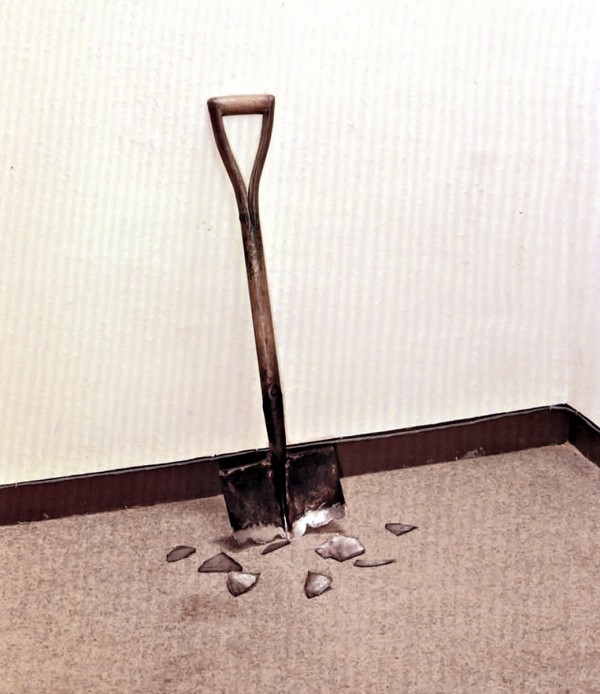 Lim Geun-jun a.k.a. Lee Chung-woo
Since his first solo exhibition in 1958, artist Kim Ku-lim has repeated timely and appropriate artistic experiments. However, as his experiments were so diverse, it raises doubts about the fact that all these were done by a single person. Normally, reputable artists, through self-referential creation, maintain a single consistent theme throughout their world of art. And as they reach their concluding years, they try to direct their lives as an epic of independent style. Kim Ku-lim's world of art is completely different; a mere collection of his representative works from the 60s to the 70s would seem like a group exhibition.
He presented a hemispheric painting, an abstract of natural elements, in his first solo exhibition and later in 1967's second solo exhibition, released an abstract painting with bewildering looks and apocalyptic atmosphere. Then, in 1969, he began to show a certain provocative nature while challenging to produce Civilization, Women, and Money, an experimental film which was a satire on society. The Meaning of 1/24 Second which was completed in the same year, was an aesthetic work that disregarded conventional film grammar and focused on the rhythmical construction of the film itself. General opinion is that the film 'established an alternative logic of moving image'.
Kim's experimental spirit bloomed in 1969. On July 21st, he performed Untitled, a performing arts piece, with Jung Kang-ja at Academy Music Hall; beat up people who were covered in clothes to Stockhausen's electronic music, a happening that took place on September 5th, at Seoul Modern Music Festival (director: Kang Suk-hi); and directed Paik Nam June's Affair on the Piano. Furthermore, Kim sent art via post to one hundred members of Korea's culture circle, instilling obscure fear into some of them. The following year, in 1970, as his experimental spirit intensified, he developed From Phenomenon to Traces, a type of earth art. Kim, who continued to perform happenings, events and street theater, held a solo exhibition in Tokyo in 1973, causing sensation by quoting and presenting everyday objects—clothes brush, hanger, dustcloth, broomstick and so on that were worn down or oiled to look old—as works of art.
What lies at the basis of such inexhaustible transformation? Why did Kim Ku-lim continuously renew aspects of his experimentation, and what was left?
1967
Kim Ku-lim, who presented a hemispheric painting of abstracted natural elements at his first solo exhibition that was held at Daegu Public Information Center Gallery in 1958, released abstract paintings that implicated the end of the world such as Nucleus (panel, vinyl, oil color, 1962) and Death of Sun 1 (panel, vinyl, oil color, 1964) at his second solo exhibition in 1967 at Busan Public Information Center Gallery. On his works of this period, which are seemingly similar to informel art, Kim states, "character of my works at that time was strongly based on performance. I repeated actions such as covering a panel with vinyl, painting it in oils, setting it on fire and then turning it off by covering with a blanket." and adds that "I dropped out of college after a year, and all the professors were teaching the likes of Matisse and Cezanne because they studied so called 'academic paintings' in Japan. But what I wanted was contemporary art. However, when I took a look at Life magazine or Time magazine, which were brought in by US soldiers, they were introducing a completely new kind of art. That's how I got to know such as Jackson Pollock and Pierre Soulages, and naturally I became aware of modern art."
1969
In 1969, as Kim Ku-lim jumped into producing Civilization, Women, and Money (discontinued due to an actress who suddenly refused to shoot a nude scene), an experimental film whose contents were a satire of society, his unique provocative nature came out to the front. Experimental film The Meaning of 1/24 Second, which was completed soon after, was an aesthetic piece that focused on rhythmic construction of image sequences. On the screen in which crossing images of overpasses that were filmed from inside of a running vehicle, water coming out of a shower head, yawning man, mysterious smokes, man in a suit glancing at himself on the mirror, mannequin and women on downtown streets, woman's lips and repeating circle images were presented, there was overflowing beauty of urban refinement. The title of the piece, The Meaning of 1/24 Second, clearly states the fact that, since the film's format is 24 images per second, 'one fixed image is being presented during 1/24 of a second'. In other words, its intention was to induce the audience to think about the moment of an image which can't be capture by the naked eye.
According to Kim Ku-lim, The Meaning of 1/24 Second was originally set to be screened on July 21st 1969, "the day man first laid his foot on the moon". However, the screening which was scheduled to be held at Academy Music Hall, was cancelled due to technical issues, and Untitled was performed instead. In this performance, which was co-performed with Jung Kang-ja, Kim laid layers of embossed structures made out of white paper attached to crates, projected overlaying still cuts (100 slides were prepared in advance) and did performances on the spot dressed in white tights. It seems that the key point was to direct an absurd situation as the planner of the performance.
At the 1st Seoul Modern Music Festival, which opened during the same year in September 5th, Kim staged an event in Fluxus style—beating a person covered in clothe to Stockhausen's electronic music. He also took the role of planner and director for Nam June Paiks' Affair on the Piano (with Jung Chan-seung and Cha Myung-hee on stage). This is how Kim got involved in the project: "Park Joon-sang had a bundle of scores for contemporary music, and was trying to cast a musician in Korea. However, Korean musicians at that time disregarded contemporary music, and so it is said that he had trouble in finding someone to play. As he was met with such difficulty, it was me that the chief of culture division at Dong-A Ilbo (daily newspaper) introduced to him, saying that 'there's an unusual artist you should meet'. When I saw the bundle of paper he brought with him, I froze on the spot. He gave me an odd look as I said 'I must do this', something that everyone refused to do.
Moreover, on October 10th, Kim Ku-lim sent out letters to hundred members of Korea's culture circle; the first letter, sent under the name of Kim Ku-lim, was in a yellow envelope which enclosed black and red fingerprints, and the second letter, sent under the name of Kim Tchah-sup, was in a white envelope with black and red fingerprints torn in half, and the third one delivered the message stating 'You appreciated Relics of Mass Media a day ago'. This consecutive mail-art was titled Relics of Mass Media. Kim recalls: "we planned the mailing process so that the letters would arrive within 24 hours. Reactions of the recipients were of all sorts. Those who hadn't been in touch for a long time thought it as a letter of breaking up their relationship and some even expressed fear. It was a time when there were talks about the National Art Exhibition's unfair judging system, and it seems that some of the elderly judges were frightened. After all, it was the days when the rumor was that 'you could win the presidential award with 10 gold rings'.
1970
In 1970, when Kim's experimental spirit intensified, a type of earth art From Phenomenon to Traces—Kim Ku-lim's fire and grass event was developed. In a situationist happening that took place at bank near Salgoji bridge (across Hanyang University) on April 11th, which he divided into four triangular spaces with white and green cords, and set them to burn one by one, from right to left (eventually there were three unburned triangles and four burnt triangles were left). This arson work, which left an intense graphic image, left a trace, and didn't easily disappear even after sprouts shot up on the bank.
Following is Kim's recollection: "I didn't have a camera at that time, and so there were many cases where I couldn't make documentation of. However, this work was able to be recorded thanks to Jung Chan-seung's photograph. A police car (Jeep) was dispatched as I started the fire, but they returned back to the station after seeing that TBC (Tongyang Broadcasting Company) was shooting the scene. I remember myself and Oh Kwang-su (art critic) being on the TV at that time."
From Phenomenon to Traces was entered for the AG Exhibition that opened at Central Information Center on May 1st. Kim Ku-lim put three chunks of cuboid ice in a red plastic container, and placed tracing papers that were cut in the size of the upper sides of respective cuboids. As ice melted (phenomenon), water became to take place eventually, which is trace, and tracing papers (traces) were left in the containers. Because different sized ice melted, volume of water left in each container varied. Also, as water evaporated naturally, tracing paper wrinkled. According to Kim, "it was a work that suggested the scheme of conversion—solid state ice becomes water, which is in liquid state, and eventually vaporizes and disperses—as a temporal context.
On May 15th, Kim Ku-lim, together with Jung Chan-seung and Bang Geo-ji, staged Condom and Carbamine, an event that reminds of Japan's Gutai/High Red Center. At 3 in the afternoon, in front of the main gate of Seoul National University College of Liberal Arts and Science, they distributed white envelopes—four small envelopes, medicine and a note with instructions were enclosed—to the students. Written on a note in envelope No. 1 was 'open envelope No. 1 at 08:40 PM on May 15th'. In envelope No. 2 was a SilverTex condom with holes pierced through, and the instruction was to 'hold the SilverTex between your private parts and open envelope No. 3 at 09:00 PM'. Upon opening the third smaller envelope, one would find carbamine powder and a memo saying 'add 20cc of cold water and drink it after repeating your name three times, and then pull yourself together and open the second envelope at 08:50 PM'. Afterwards, when recipients opened the third envelope, they found a scratch paper with 'No. 1, Stem by Kim Ku-lim, No. 2, Condom by Jung Chan-seung, No. 3, 0=1+1-1x1 directed by Bang Tae-soo (a.k.a. Bang Geo-ji)' written on it.
The white powder used in Mind's Pillar, which was categorized as Kim Ku-lim's work, was Carbamine—anticonvulsant stomach medicine containing carbamazepine and made in the U.S.A which was popular in Korea during the 60s—and was probably used to give a message of 'immediately stop acting hysterically and pull yourself together to look back art and life' to those who were living a confused period. Jung Chan-seung's Condom would have been a call for an instance overcome of fixed ideas through absurd acts. Lastly, Bang Tae-soo's equation 0=1+1-1x1 is an analogy of the structure of the artwork itself, and a self-referential pun; it means that 'Jung Chan-seung's work is added onto Kim Ku-lim's, and my work (equation), which provides an explanation of those two, is subtracted, thus leaving zero, nothing'.
The following day on May 16th, Kim Ku-lim staged a happening on a pedestrian overpass in front of Shinsegae department store at Myung-dong with Jung Chan-seung and Bang Tae-soo (representative of Ejotto Theater Company). In this situationist work, which was named Happening on the Pedestrian Overpass, Kim completely blocked one side of the overpass like a wall with more than 100 balloons, precluding pedestrians from passing through. But as those who had to cross the overpass passed by pushing their way forward, balloons popped and a road was made.
Kim Ku-lim planned and gave a try at From Phenomenon to Traces and From Phenomenon to Traces D, works researching on phenomenological place and time, for The Grand Art Exhibition of Korea which was held at the National Museum of Modern and Contemporary Art on June 9th. The plan for From Phenomenon to Traces was to unfold a read nylon cloth on the floor—whose size was four times larger than the floor—and pile up ice brought in by scores of trucks, enclosing them with the cloth. It was a situationist project, whose plot was to flood the museum with melted ice, and leave the red cloth in a wrinkled shape on the floor, that criticized the system. However, it couldn't be realized due to hosting organization's opposition.
On the contrary, From Phenomenon to Traces D was a scheme to wind Gyeongbokgung Palace Museum with dozens of rolls of white cotton cloth (30cm in width), and bury the both ends of the cloth in a pit (60cm × 40cm) that was dug up in front of the museum's entrance. A large stone was to be placed on the pit, and, alike From Phenomenon to Traces, it was also a situationist criticism on the system. This work was also unrealized due to hosting organization rejecting such installation.
On June 20th, Kim Ku-lim, together with Kang Kuk-jin, Band Tae-soo, Son Il-kwang, Jung Kang-ja, Jung Chan-seung, Choi Bung-hyun and the like, held an inauguration ceremony of The Fourth Group at Sorim Coffee Shop in Euljiro. As time reached noon, the national anthem began to play from a speaker at the coffee shop, and every young artist who was there stood up to perform the pledge of allegiance. Kim Ku-lim assumed the position of Tongryeong, Jung Chan-seung Chongryeong, Bang Tae-soo Poryeong and Son Il-kwang (fashion designer) Euiryeong. Their initial plan was to recruit members nationwide and infiltrate an assembly of new ideas into Korean society. Kim remembers it as: "our adopted mode was to form a cabinet by taking 'Dae' off Daetongryeong (meaning president in Korea), and naming Chongri (prime minister in Korean) as Chongryeong and so on. A police detective tailed me for organizing The Fourth Group, and because it was about to give me serious health problems, the group disbanded the following year in 1971".
1973
In 1973, Kim Ku-lim, who was continuing to stage happenings, events and street theater, held a solo exhibition at Shiroda Gallery in Tokyo—this exhibition, by citing and presenting everyday objects—clothes brush, hanger, dustcloth, broomstick and so on—that were sandpapered or made dingy with oil, attracted much attention. (The works were titled like mop, broomstick, etc. by recursive literalism.) In contrast to the fact that creative trends in search for phenomenological sense of place were developed with an aspect similar to Mono-ha, a minimalist art of the East, it was Kim's totally different way of treating the theme of temporality, which is similar to the forementioned, that became an issue. Lee Ufan, in his introduction of the exhibition, gave favorable comments stating that Kim revealed the world of absence objects, of "places that exist nowhere" and "things that are nothing".
There's an interesting episode that involves Minemura Toshiaki (1936-) who was at the exhibition at that time: "A person who came to see the show on the last day of the exhibition asked me a tough question. It was 'if someone used a same object as this in his/her everyday life, and compared it with your work 50 to 100 years later, how should yours be distinguished from the other?' Back then I responded that I would 'use my signature for identification'. However, from then on for 6 months, I couldn't sleep well and eventually was sick in bed. Then, as I came up with an answer, I began working on a new project, and held an exhibition with new works—but nearly identical in format—at Nirenoki Gallery in 1974. This time, the difference was that I painted age onto newly purchased objects with a brush. When seen from afar, they were certainly old. But from a close distance, it became obvious that they were objects with paint drawn onto them."
On the desire to deny self-referent identity
A desire to deny self-referential identity is read at the bottom of this infinite transformation. Kim Ku-lim, during the 60s and the 70s, showed himself as an omnivorous artist with good appetite; after exploring a certain contemporary problem through a single experimental style, he changed completely and went to repeat experiments with different styles. Where does this creative attitude that denies self-reference come from? What was his goal? Could it be related to the bystander-like viewpoint found some of the Korean artists? That is to say, wouldn't it be possible that he maintained a 'try everything' position with the attitude of an outsider who referentially indicates and comments on modern art of the West and Japan? By any chance, as a borderline artist, wouldn't it have been one of the best methods to become a contemporary?
Art historian Yun Nan-jie analyzed this as: "Kim Ku-lim, circulating between various personae without any certain direction, is far from a modernist model of artist who consistently imprints his/her existence following the logic of linear evolution which revolves around individual styles. As indicated by his words that he pursues "art as nameless structure", Kim, who presents himself anonymously, demonstrates the 'death of a subject (or author)' which was declared by the deconstructionists. [...] If it is signs as proof of existence that monochromists try to create, then the signs created by Kim Ku-lim are those that rather confirm his absence."
Inserting this into Giorgio Agamben's concept of the contemporary makes Kim Ku-lim's status and methodology even clearer. Agamben explains the contemporary as "someone who does not get along perfectly with his/her time, someone who does not adapt to the demands of his/her time", and defines contemporaneity as "a unique relation made with one's time by maintaining distance yet clinging onto it" and "a relation with one's time made by clinging onto it precisely through time difference and anachronism". According to his conclusion, a contemporary is "someone who can transform time through division and revision, relate it with another time, read history in an unheard-of way and 'cite' such time as when inevitable", and "inevitability by no chance stems from arbitrariness but from demand that he/she may not refuse to answer".
In other words, Kim Ku-lim, by being selective of various experimental art forms of his time, and yet realizing those references as a new work of art, may be regarded as a case of 'clinging onto' to a degree that his heterogeneous nature is practically concealed. Kim, who clung onto the contemporary of the west and Japan through his referential deviation, realized contemporaneity in a way that was unheard of. His creative works retouched the time realized by the self-referential compulsion of avant-garde which was obsessed with old customs. As a result, Kim distorted his time in a strange way; perhaps this exhibition is one of the consequences of such distortion. Then, couldn't it be that the author's 'inevitable act of citation' results from a critical answer to an uncontrollable verification urge aimed at a time in which he/she belonged or not?
Let's change the question. What was the demand that Kim Ku-lim—a contemporary who revealed his existence through absence—had to answer? Could it not have been the very ontological meaning of experimenting in Korea's modern art world? And so that he had no choice but to move to Japan and the U.S. to experiment new changes? In this case, there are two artists that may be compared to Kim. One is Elaine Sturtevant (1930-), and the other is Martin Kippenberger (1953-1997).
In 1964, Sturtevant began working on remaking important modern artists' representative works in an exactly same way. Sturtevant, who examines works of outstanding artists with her own eyes, infers the making process, and remakes them with her own hands, says that "(though the topic of similarity is important) the issue of how much the result resembles the original is not that important. My issue is the understructure of the work." (This is why her retrospective seems like a group exhibition.)
Sturtevant explains her works as 'making object over image following cybernetic imposition'. In other words, she is claiming that her works are objects that research the understructure of certain works of art that became images. And through this, in her words, she aims to turn the images of understructure and surface around, and further reveal the totality of the system which moves art.
On the other hand, Kippenberger, a problematic figure who earned the nickname 'The Artist Who Did Everything' and died at the age of 43, scraped up useful methods which were attempted by avant-garde artists of his time, and applied them to his works in various ways. A good example that shows his attitude clearly is the Peter Sculpture series. (It is quite interesting to compare them with Kim Ku-lim's Broomstick or Dustcloth from 1973.) Kippenberger's Peter, initially released in 1987, looks like a utility—ordinary object used in our everyday lives. However, when examined closely, it turns out to be abnormal; it is difficult to figure out its usage, and it also doesn't seem to possess aesthetical value. It is said that Kippenberger's goal was to 'make a sculpture that doesn't look like one'. Therefore, Peter becomes an artwork that disguised itself as an ordinary object.
According to his colleagues' recollection, back in the early 80s, Kippenberger used to enjoy playing with words by using 'Peter' as a suffix meaning 'whatever', which was mainly to make fun of 'conceptual artists who make objects that are proof of their works' core concept, and putting them out for sale'. Then on, the concept of 'Peter-hood' was naturally drawn, and was used in making self-parody sculptures that dealt with discrepancy between ideas and actual production.
If we are to accept Sturtevant's logic on works of art, then we may shed new light on Kim Ku-lim's works. In other words, how would it be to consider Kim's early works as 'realizing objects and performances over ideas following cybernetic imposition'? Taking a step further, couldn't it be said that 'through this, ideas and materialization process are turned around, and the totality of the system that moves are is revealed'?
In the same manner, should we agree to Kippenberger's logic as a whole, we may also redefine Kim Ku-lim's works as 'realization/demonstration of production and performance of objects that deal with the discrepancy between ideas and materialization'. However, under Kippenberger's critical point of view, Kim's early works begin to be interpreted as a satirical monument which refers to such as conceptual art or Fluxus. That is, Kim's works are seen as self-examining and self-parodic art practice which, by making a gesture of affirming the basic structure of experimental art and materialization of ideas, proves the meaning, limit and contradiction of such structure.
Therefore, when arranged in time sequence, Kim Ku-lim's world of experimental works emanate an even more strange and unusual fascination, revealing its key factor—a third kind of temporality drawn from borderline experiments as a contemporary investigation into the west and Japan's contemporaneity. Yet, it is indeed mysterious that such reminiscent scenes seem as a caricature looking just like Korea's capitalist society which went through ultra-speed compressed growth. Though the experimental art of this contemporary who arrived in Korea too early was never directed at realism, a remarkable reality is perceived in the scenes of time (occasionally intentional and inevitable anachronism) that are cultivated by his works.