Curators' Series #11. Performance Histories. Kim Ku Lim 김구림 - part 3
페이지 정보
작성자
ART
댓글
0건
조회
606회
작성일

21-05-20 01:59
본문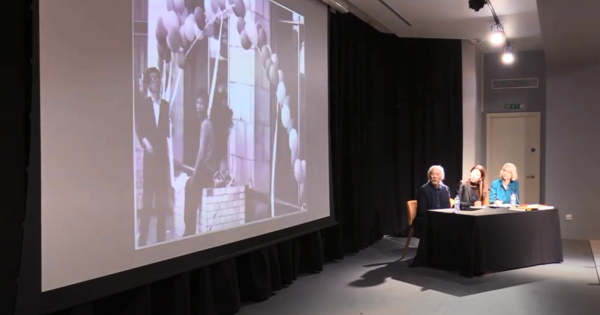 This event was part of the SOAS School of Art Contemporary Arts Research Seminar Series and DRAF Curators' Series #11: Institute of Asian Performance Art by Victor Wang 王宗孚
On 18 October 2018, iconic Korean artist Kim Ku Lim discussed his work with art historian and curator Dr Charlotte Horlyck (Senior Lecturer in History of Korean Art, SOAS). The conversation addressed Kim Ku Lim's practice over the last 40 years, specifically his prominent role in the development of performance art in Korea, through the Avant-Garde (A.G.) (established 1964) and The Fourth Group (established 1970), as well as his work with experimental film.
About Kim Ku Lim:
Kim Ku Lim 김구림 (b. 1936, Sangju, South Korea) is a pioneer of performance art and the first artist in Korea to make experimental films such as The Meaning of 1/24 Second (1969). Known as Korea's first avant-garde artist, he has worked in film, light, performance and land art, often stretching the limits of a given medium. In Korea, he held his first solo exhibition in 1958 at Daegu Information Center, and soon expanded his artistic practice beyond painting. For his artistic "deconstructions" he often used burned plastics, vinyl and metal bits alongside oil paint. He incorporated ready-made objects into his painted canvases, installations and staged performances. Kim played a leading part in several artist collectives (Painting 68, A.G. Group, The Fourth Group). He staged the nation's first body painting performance and initiated the first Korean mail art Maeseu Midieo ui Yumul [The Relics of Mass Media] (1969).
About Dr Charlotte Horlyck:
Dr Charlotte Horlyck is an art historian and curator based in London. She received her PhD from SOAS in 2006. She was appointed Lecturer in Korean Art History at SOAS in 2007 and has recently been promoted to Senior Lecturer. She has curated the Korean collection at the Victoria and Albert Museum in London (1998-2004) and has published widely on Korean material culture, in particular on ceramics and metal wares of the Goryeo kingdom. More recently she has worked on modern and contemporary Korean art. Her monograph Korean Art – From the 19th Century to the Present(Reaktion Books) was published in September 2017.